Vitamin E
is an essential fat soluble vitamin that is naturally available in eight forms consisting of alpha (α), beta (β), gamma (γ) and delta (δ)-tocopherols and α, β, γ and δ-tocotrienols. All eight forms of vitamin E are potent antioxidants that neutralize free radicals, protecting cells against lipid oxidation and DNA damage. Tocotrienols are more potent than tocopherols. The antioxidant capabilities of tocotrienols are 40-50 times that of tocopherols.
Palm Essence
Palm Essence Trocotrienols is a potent antioxidant: Vitamin E is effective for the treatment of Fatty liver & Liver inflammation; Vitamin E ameliorates neurodegeneration, slows Dementia & Alzheimer's Disease
Plam Essence Vitamin E the first line pharmacological treatment for Non Alcoholic Liver Inflammation
Key Features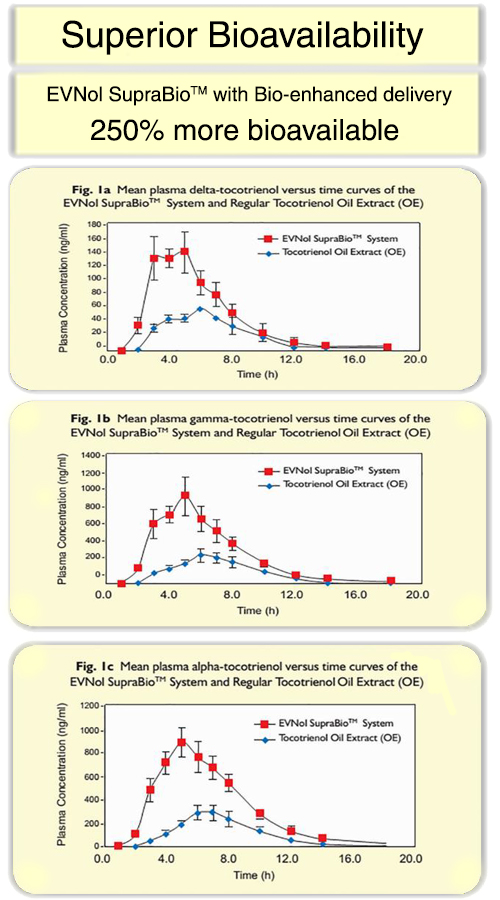 Pharmacology
Tocotrienols (T3) Most potent form of natural vitamin E
Vitamin E:
Antioxidant → Reduce cholesterol
Only in Tocotrienols (T3):
Protect against brain cell damage [Palm Oil–Derived Natural Vitamin E α-Tocotrienol in Brain Health and Disease; J Am Coll Nutr. 2010 June ; 29(3 Suppl): 314S–323S.]
CLINICAL STUDY:
High plasma levels of vitamin E are associated with a reduced risk of Alzheimer Disease in advanced age. [J Alzheimers Dis. 2010:20(4): 1029-37]
Vitamin E slows Alzheimer's Disease by 19% Annually.[JAMA. 2014 Jan 1;311(1)]
APPLICATION & INGREDIENT
Disclaimer: This information is intended for physician information purposes only and is not intended as a substitute for advise from a physician or other health care professional and should not be used for the diagnosis or treatment of any health problem or for prescription of any medication or other treatment. Do not discontinue any other medical treatments without first consulting your doctor.
Dosage, Administration, and Precautions
Administration
As a dietary supplement, take 1 to 2 softgel(s) daily after meals, or as directed by a physician / healthcare professional.
Storage
Store in a cool, dry place. Protect from light.