Note:
Current picture is just a placeholder, product picture to be updated.
Key Features
Natto Essence® is rich in natural vitamin K2, menaquinone-7 (MK-7);the most potent form of Natural Vitamin K, which strengthens and maintains bones, promotes healthy cardiovascular system and patented encapsulation technology enhances excellent absorption and stability.
Vitamin K2 as menaquinone-7 (MK-7) is the most bioavailable, longest-lasting, and most bioactive form of Vitamin K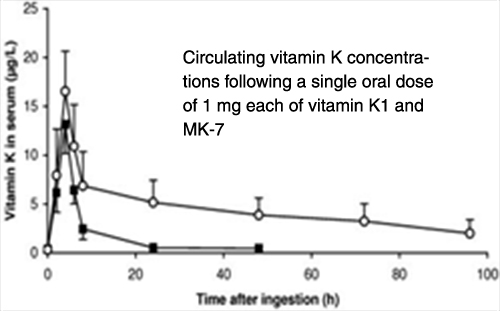 Ingredient Table
| | |
| --- | --- |
| Serving Size per Capsule | 60 Softgels |
| Servings per container | 60 |
| Vitamin D3 (Cholecalciferol) | 1000 IU |
| Vitamin A (Retinyl Palmitate) | 3000 IU |
| Vitamin K2 (Menaquinone-7, MK-7) | 100 mcg |
| Vitamin E (Tocotrienol) | 5 mg |
Pharmacology
Vitamin K functions:
Regulates normal blood clotting
Only Vitamin K2:
Promotes mineralization of bone
Inhibiting mineralization (calcification) of blood vessels
Anti Osteoporosis: Vit K Reduces Fracture
Only vitamin K2 consumption has been linked to the inhibition of arterial calcification
Dietary Intake of Menaquinone Is Associated with a Reduced Risk of Coronary Heart Disease: The Rotterdam Study ; The American Society for Nutritional Sciences J. Nutr. 134:3100-3105, November 2004
Indication Table
Application
Improves Bone Mineral Density
Anti-Osteoporosis
Coronary Heart Diseases
Cardiovascular Disease
Cancer Prevention
Liver Function Deficiency:

Cirrhosis, Fibrosis
Chronic Viral Hepatitis

Vitamin K Deficiency

Inflammatory Bowel Diseases
Long-term Aspirin Consumption
Disclaimer: This information is intended for physician information purposes only and is not intended as a substitute for advise from a physician or other health care professional and should not be used for the diagnosis or treatment of any health problem or for prescription of any medication or other treatment. Do not discontinue any other medical treatments without first consulting your doctor.
Dosage, Administration, and Precautions
Administration
As a dietary supplement, take 1 capsule daily after meal, or as directed by a physician/ healthcare professional.
Storage
Store in a cool, dry place. Protect from light.
Condraindications
Consult a doctor prior to use if you are taking blood thinners such as warfarin.